The fleimio design shop's name is fleimio design-art-work. The fleimio design-art-work serves as a design shop, art-gallery and co-working space. The fleimio design-art-work shop's address is Kaupparaitti 3. It is open MON-FRI 10 -17 and SAT 9-14. At other times, our shop is open by appointment.
fleimio design shop
Easy to come: location in downtown Tuusula, only about 35 minutes' drive from the Helsinki. The Helsinki airport is only a 15-minute drive away. The nearest bus stop is about 100 meters from the shop. Additionally, there are fleimio parking lots for our customers by the shop.
At the moment the design shop is the only shop selling the fleimio products in the world. There are no more fleimio products available in the fleimio design shop than in fleimio online shop.
fleimio product registration
new fleimio products have a registration number that makes the product unique, adds its value and prevents copying.
The registration number is an engraved unique series of numbers on an elegant stainless steel signboard that will be attached on the fleimio product. Additionally, the owner of this fleimio product will be registered. The registration number is attached in all new fleimio products purchased from the fleimio design shop or the fleimio online store.
Read more: https://fleimio.com/en/general/how-to-identify-a-genuine-fleimio-product-2-2020/
fleimio art-gallery
The fleimio art-gallery exhibits various artists' works. Goal is to arrange 11 art exhibitions this year. Read more about fleimio art-gallery and check the coming art exhibitions 2020 here.
fleimio work
The fleimio work space is for remote workers, entrepreneurs and freelancers. One can rent an own work-station - or one can arrange an event! Outside the premises there will be a terrace, where it can be really nice to work when sun is shining.
Work station rental includes 4G internet access and good people to work with. Additionally, there is coffee and refreshments available. Read more about rentable fleimio spaces.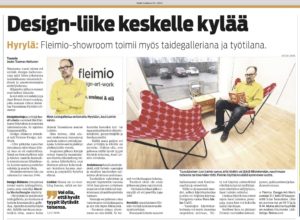 The premises has a great history! It was built 1946, built of wooden logs with its big windows facing west. The shop has previously been a photo shop, bookstore, children's clothing store, silk weaving mill - now it is fleimio design-art-work.
Local newspaper made an excellent story about the fleimio design-art-work on the 25th of January 2020 (pages 16-17). 
You are warmly welcome!