Arctic TreeHouse Hotel Rovaniemi / fleimio yhteistyökumppani 09/2018

Arctic TreeHouse Hotel Rovaniemi / fleimio yhteistyökumppani 09/2018
Arctic TreeHouse Hotelli on osa SantaPark Arctic Worldiä ja avasi ovensa marraskuussa 2016. Hotelliin pääsee helposti lentämällä, junalla tai autolla, sillä se sijaitsee vain 10 minuutin päässä  Rovaniemen keskustasta.
Hotelli on ollut fleimio yhteistyökumppani vuodesta 2016.  Arctic TreeHouse Hotelli on valittu maailman puu-hotelliksi nro 2. Tämän majoitus kokonaisuuden suunnittelussa oli mukana Studio Puisto Helsingistä.
Arctic TreeHouse Hotel  is part of SantaPark Arctic World and it opened its doors November 2016. The Arctic TreeHouse Hotel is easy to
access by air, train or car, 10 minutes from the city centre of Rovaniemi Finland.
The Arctic TreeHouse Hotel has been fleimio partner since 2016. The Arctic TreeHouse Hotel in Rovaniemi is ranked as the #2 TreeHouse
hotel in the world. Studio Puisto Helsinki was in charge of the architectural  planning of the Arctic TreeHouse hotel.
Arctic TreeHouse hotellin aulassa on heti lämmin tunnelma. Aulassa palaa elävä tuli, jonka vieressä takkapuut
ovat siistissä järjestyksessä ja käytössä fleimio trolley original – vaunussa. Design Tero Jakku (TaM).
The ambience in Arctic TreeHouse Hotel's reception is warm as there is a fireplace with fire. Besides the fire,
there is fleimio trolley original for the firewood storage. Design Tero Jakku (MA).
fleimio trolley original / Arctic TreeHouse Hotel Lobby
Hotelli avasi sen Luxury Comfort -sviitit vuonna 2016. Sviittejä on yhteensä 26, joiden lämmin puinen sisustus korostaa hienoa Skandinaavista designia ja yhdistää paikallisen perinteen,
lapin kulttuurin. Sviittien panoraama-ikkunat tarjoavat upean näkymän lähistön metsiin ja taivaalle. Sviiteissä on kamiina ja kamiinan viereen sisustuksessa fleimio mini trolley -vaunut,
joissa polttopuut esillä ja käytettävänä. Design Tero Jakku (TaM) ja fleimio.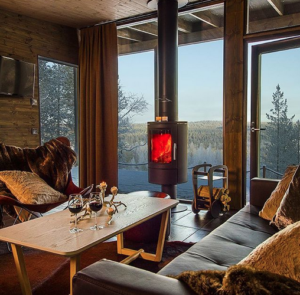 The hotel opened its Luxuty Comfort suites 2016. Actually, the the Arctic TreeHouse Hotel is formed of 26 exclusive suites
with Scandinavian design combined with local tradition & Lappish heritage. The suites offer awesome views to the
surrounding forest and Northern skies that open up from the panoramic windows. There is a fireplace in each
suite and besides the fireplace is a fleimio mini trolley to help with the firewood. Design Tero Jakku (MA) & fleimio.
Hotellin sviittien sisustuksessa on skandinaavinen tunnelma: varusteina sviiteistä löytyy TV, teen / kahvinkeitto  -välineet ja mini baari.
Jokaisessa huoneessa on oma kylpyhuone, jossa suihku.
The Suites are decorated with Nordic design, the rooms have a flat-screen TV, tea/coffee facilities and a minibar. The rooms have
a private bathroom equipped with a shower. For your comfort, you will find free toiletries and a hairdryer.
Arctic TreeHouse Hotelli tarjoaa hienot puitteet asiakastilaisuuksiin tai tapahtumille. Hotellista löytyy monta kokoushuonetta.
Yksi tiloista on nimeltään "Salarakas" ja sen seinää koristaa fleimio pine cone -seinähylly. Design Tero Jakku (TaM).
The Arctic TreeHouse Hotel is a splendid place to hold an event or a customer occasions. The hotel has plenty of conference rooms
to choose from. One of the rooms is called "The secret lover" and there is a fleimio pine cone wall shelf in its wall. Design
Tero Jakku (MA).
fleimio mini trolley / Arctic TreeHouse Hotel Suites
Arctic TreeHouse Hotelli on avoinna vuoden ympäri. Siellä voi majoittua myös kesäisin.
The Arctic TreeHouse is open throughout the year. You can visit the hotel during summer too.
Rovaniemi tarjoaa lukuisan määrän eri aktiviteetteja: voit hiihtää, pyöräillä tai vaeltaa. Matka hotellilta lähimpään postitoimistoon on 2 km.
Rovaniemen keskustaan 5.7 km. Lentokenttä on 3.4 km päässä hotellista.
You can engage in various activities while in Rovaniemi, such as skiing, cycling and hiking. Santa Claus Village – Main Post Office is 2 km
from Arctic TreeHouse Hotel, while central Rovaniemi is 5.7 km from the property. The nearest airport is Rovaniemi Airport, 3.4 km from the property.
Osoite / Address:  Tarvantie 3 Arctic Circle, 96930 Rovaniemi, Finland
Rovaniemi on virallinen Joulupukin kotipaikka. Rovaniemi is the Official Hometown of Santa Claus.
Lue lisää Arctic TreeHouse -hotellista / Read more from their website http://arctictreehousehotel.com/
Katso hotellin kuvagalleriaa / Look at the image gallery of the Arctic TreeHouse hotel and the suites http://arctictreehousehotel.com/gallery
fleimio pine cone wall shelf / Arctic TreeHouse Hotel "Salarakas"