fleimio pääkonttori / fleimio headquarters 10/2018
fleimio pääkonttori / fleimio headquarters  10/2018
Pääkonttori sijaitsee Tuusulassa. Alunperin se oli keltatiilinen L-muotoinen loiva harja-kattoinen, puurakenteinen omakotitalo, joka oli rakennettu 1975. Se on ollut fleimio perustajan Jussi Leimion perheen koti 2001 alkaen. Vuonna 2008 valmistui alkuperäisen talon päälle rakennettu toinen kerros ja uusi ulkoasu.
The headquarters is located in Tuusula, southern Finland. The original house was a 1975 built "flat cap", with L-shaped floor plan, a low hip roof, a timber frame and yellow brick cladding. Since 2001 it was the home of Jussi Leimio and his family, the founder of fleimio. Year 2008 the second floor, which was built on top of the old house with a new awesome outlook, was ready.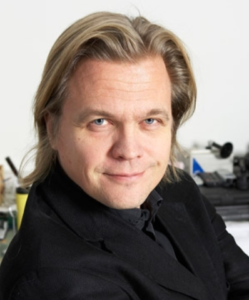 Uuden 'talo Leimio' ulkoasun suunnitteli arkkitehti Vesa Honkonen. Hänellä projekti arkkitehtinä Jaana Tilkkala ja tukena Anja Hämäläinen.
The new 'house Leimio' was realised by architect Vesa Honkonen, project architect Jaana Tiikkaja with assistance by Anja Hämäläinen.

(photo by Jussi Tiainen)
Uuden talon suunnittelun tavoitteena oli säilyttää mahdollisimman paljon olemassa olevasta vanhan talon rakenteesta, mikä oli suuri haaste. Tämä oli toisaalta ainoa hyväksyttävä ratkaisu, että pystyttiin käyttämään olemassaolevia rakenteita hyväksi. Lisäksi tehty ratkaisu vähensi kustannuksia huomattavasti verrattuna siihen, että olisi rakennettu täysin uusi talo. Vanha talo vaan tehtiin kauniimmaksi.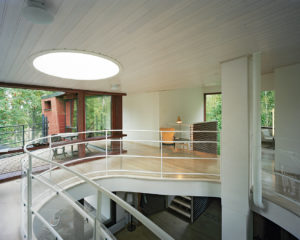 The objective was to preserve the existing structure as much as possible. It was a major challenge, but the only acceptable solution from the point of view of material recycling and sustainable development. Additionally, this reduced the cost of the construction project substantially compared to the construction of a new house. The old house was made beautiful!
Vanhan talon autotallista tehtiin sisäänkäynti Alakerta jätettiin muuten melko lailla ennalleen, vain yksi ikkuna vaihtoi paikkaa.
Talon ulkopinta rapattiin ja ylempi kerros tehtiin puusta. Valo pääsee ikkunoiden ja aukon kautta hyvin alakertaan.
The garage door was converted into the new entrance. New bedrooms, a living area and bathroom were constructed upstairs while downstairs was left more or less unchanged except for one window that was moved a little bit. The yellow brick walls were plastered and the new floor was made of timber. Light through the windows enters down to the ground floor.
"Ylempään kerrokseen ja samalla koko taloon haluttiin lisää liikettä ja lisää elämää. Tämän takia talon muodot saivat aaltomaisen muodon", kertoi arkkitehti Vesa Honkonen. "Sen muodot alkoivat keinua liikkeessä ja seinät alkoivat taipua".
"We wanted to have more movement on the new upper floort, more life. This is why the form of the building started to have slightly waving form", told architect Vesa Honkonen. "Its lines started to wave along the movement, walls started to bent".
(photo by Jussi Tiainen)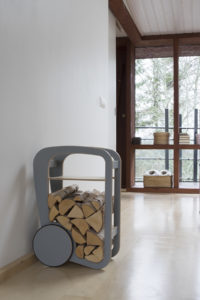 (photo by Jussi Tiainen)
Talosta kertoi ensimmäisenä Arkkitehti-lehti 5/2008 (ARK, ark.fi). Lisätietoa ja kuvia löytyy myös
http://vharc.com/portfolio-item/villa-leimio/
https://www.architonic.com/en/project/vesa-honkonen-house-leimio/5100377
Finnish Architecture Magazine 5/2008 (ARK, ark.fi) was the first, who told about the house in their 5/2008 issue.
More info and images
http://vharc.com/portfolio-item/villa-leimio/
https://www.architonic.com/en/project/vesa-honkonen-house-leimio/5100377
Mikäli kiinnostuit, lisätietoa saat Jussi Leimiolta (jussi [at] fleimio.com).
If interested, please ask additional information from Jussi Leimio (jussi [at] fleimio.com).