+delivery expences
fleimio original 5 is a versatile wooden furniture with wheels. It will be delivered fully assembled and with five fleimio shelves.
Please inform us – which shelves you want – when making an order.
You are able to buy up to five regular or wine shelves for this product or a fleimio bag.
dimensions:   99 x 39 x 28 cm
weight:   6,6 kg
material: Finnish birch veneer
model:    5 places for the shelves
colours:   white, grey, black, red
country of origin:   Finland
design:   Tero Jakku (MA) & fleimio
Description
The fleimio original 5 is as the fleimio original but has five locations for the shelves. Read more about fleimio original. The fleimio original 5 is delivered fully assembled and with five fleimio shelves or wine shelves. It is available in four colors. For architect projects, the product is also available in custom color. If you want to hear more information about fleimio offering for architect projects, send an email to Jussi @ fleimio.com.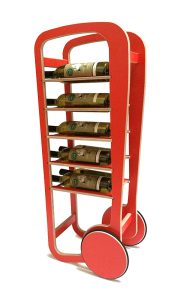 Your fleimio original can have many usage purposes throughout the year. It is easy to change the way it is used with the fleimio accessories. Accessories include: fleimio shelves, fleimio wine shelves, and fleimio bags. The fleimio accessories can convert your fleimio original 5 into a magazine stand, bookcase, catering trolley or into an elegant laundry basket.
The fleimio Original 5 with wine shelves can hold up to 10 bottles of wine or cans of milk. When using the fleimio original 5 with regular shelves, you can use it to store magazines, books, clothes or vinyl records. You can choose how many shelves you want to use. Shelves are easy to add and remove.
Your fleimio original 5 will stay in good condition when you wipe it every now and then with a towel dampened with a neutral detergent. This will also remove small stains on its sides. It is good to dry the surface after wiping. This product is designed for indoor use. If you decide to use it outdoors, use it on flat surfaces and check that no dirt or pebbles come with it when entering indoors. The fleimio original 5 can be used
at home, cabin interiors, restaurants, hotels, offices, public venues and in shops.
Additional information
| | |
| --- | --- |
| Weight | N/A |
| Dimensions | N/A |
| Color | Black, Grey, Red, White |